Play Village in your building or Franchise/Licence opportunities
Do you have a space in your commercial building and like the idea of installing a play village? Are you looking to open a play village yourself and don't know where to start? Don't panic, we can help! We now offer bespoke build packages so you can start welcoming little people with big imaginations to your business very soon. We can even help with branding and a website if you opt for our franchise package.
Each play village building is completely bespoke and can be tailored around your requirements and available space. One of our design team will get in touch to discuss your vision, what sort of village shops you would like at your play village and go over the different design options with you.
Our basic package starts with three play village buildings, but you can add as many as you like depending on what you are trying to achieve. Once you have signed off on the building designs our specialist carpenters will get to work constructing each unit. Your location in the UK and the situation with your commercial space will determine whether the units are constructed in our workshop and delivered for assembly or built from scratch on site, this will be confirmed during the design consultation.

Typically, the play village buildings are 8ftsqr and are constructed with a timber frame and 18mm MDF sheet material. This ensures strength and durability, each building is then primed and painted with one of the many cleanable, pastel colours available to choose from our recommended paint range. Depending on which designs you go with, each play village building with have their own unique elements of detail, whether that's corner stones, window boxes, brick corbeling and various roof and window designs. Each building has a ceiling height of 8ft and will have a pendent light fitting installed ready to light up your village.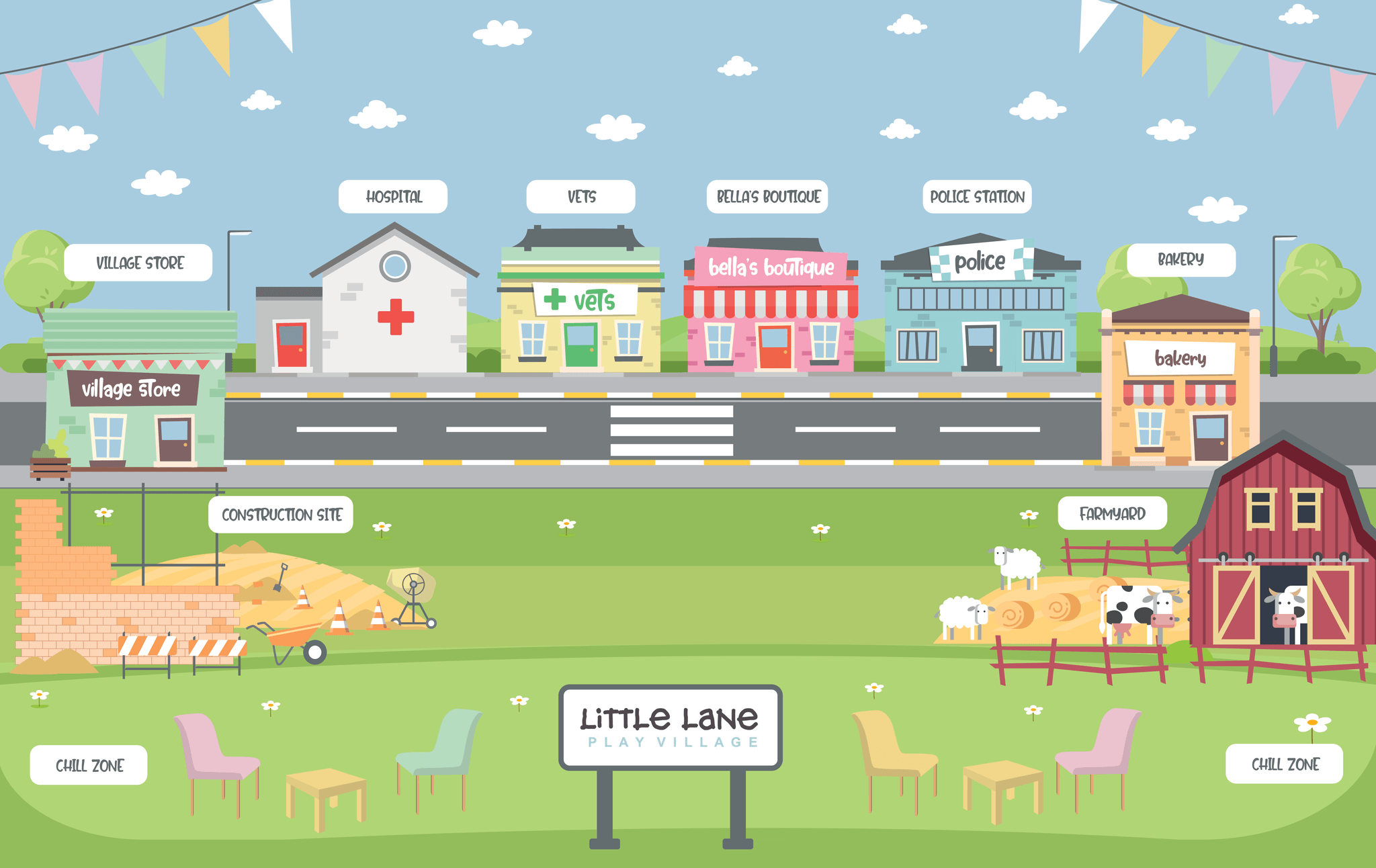 We have three package options to choose from:
Package 1
Priced per building, this is a standard build package. We will provide as many buildings as you require which will all be built to a high standard and in keeping with agreed plans. All buildings will be painted, with a pendent light fitting installed.
(Please note that with this package no internal fixtures will be provided, and you will be responsible for sourcing and installing flooring, furniture and props)
Contact
Package 2
This is a completely bespoke package. We will charge a set fee per building and provide a separate quote for vinal flooring inside each building, as well as internal furniture and props. You will have a choice of net curtains for each building too.
Contact
Deluxe Package
This is a complete turnkey package, we will offer a bespoke quotation set out in the same manner of package 2 but in addition we will provide a complete brand pack which will include, Logo design, animated village map with your bespoke layout, x10 pieces of branded artwork to be used on social media and a website design based on the design of our Little Lane Play Village website but instead of our name, your company name will be used.
(Please note, we do not permit the use of our name 'Little Lane Play Village' for legal reasons)
Contact